It is similar to Stun Shell (Normal) except that the initiation is through an electric squib. Electric impulse is delivered from 12 Volt Battery. It is fired from Multi Barrel Launcher (Agnivarsha).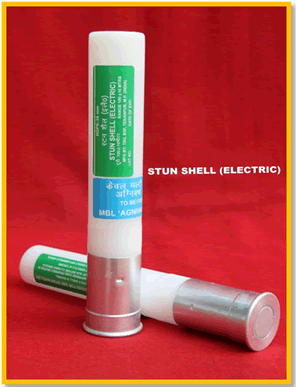 Technical Specification
Fired from                        
Multi Barrel  Launcher
Chemical used
Stun  Composition
Shell Body                         
Plastic
Range                                 
100 + 10 mtrs
Shelf life                            
Operational – 03 Years
For training purpose – 04 years
(Total life – 07 years)
Utility
Creates stunning effect and confusion to provide sufficient reaction time to law enforcing agencies.

Checks throwing back of T S Shells.

Augment effectiveness of T S Shells.
Advantage
Stun shell blasts with loud bang and flash.

Can be used in all weather conditions.

Electrically operated and volley can be fired to cover large target area simultaneously using MBL.
Note
Stun Shell (Electrical) does not contain Tear Smoke; it only bursts with loud bang and flash.

Should be fired with high angle to avoid direct hit and to make it burst while in the air well above the target.