To be a global leader in production of state of the art Less Lethal munitions, in consonance with Make – In- India policy of the Government of India, through sustainable growth, knowledge, excellence and exemplary governance practices.
TSU was formally established at Tekanpur on 12 May 1976 as a project of the Ministry of Home Affairs, to produce Tear Smoke Munitions Till then, Police forces in India were dependent on imported TSMs for law enforcement purposes. Establishment of TSU thus enabled availability of indigenous 'Less Than Lethal Munitions' eventually ending dependence on foreign munitions.
TSU started with the production of four types of TSMs and presently has expertise in manufacturing   more than 46 types of munitions. Backed by robust R&D setup, strong quality processes and rich experience of managing clients across the world, TSU aligns production strategies with customer requirements. From simple changes in process to innovative solutions, the unit helps customers harness the power of less than lethal Munitions to achieve excellency, customer satisfaction and sustainability. The products developed by the TSU have esteemed positions in the Catalogue of Jane's Police and Security equipment manuals.
Tear Smoke Unit envisions to be a global leader in Production of State of the Art less than lethal Munitions through sustainable growth, knowledge excellence and exemplary governance practices. Underpinning this vision is a performance culture committed to achieving targets, safety and social responsibility, continuous improvement, innovativeness and transparency.
To equip our Police and Armed Forces with Less than lethal munitions to deal with various law & order and peace time operational situations.
To Continuously Modernize our Production Facilities.
To equip ourselves with Technologies through Synergy and In-house R&D.
To Continuously Improve Quality.
To improve operational efficiency.
To continuously achieve highest level of customer satisfaction.
To bridge the gap between demand and supply, TSU has enhanced its production capacity to 12 times, by adopting innovations and best management practices. TSU is aiming to further enhance the production capacity to meet increasing demand of TSU products through capital infusion and automation process.
TSU has an excellent R&D set up which continuously strive to improve existing products and invent new products as per security forces requirements. This year (2020-21) 10 new products developed by TSU have been tested and approved by BPR&D for use by law enforcement agencies of India.
TEAR SMOKE UNIT (TSU) is committed to produce products that meet customer and legal requirements by optimal use of resources to attain customer satisfaction and confidence through the application of the quality management system and its continual improvement. TSU has decided to achieve established QUALITY OBJECTIVES and such objectives are periodically reviewed.
In line with the Quality Policy of our organization, we have decided to achieve following Quality Objectives, which are established at various functions and levels within our organization.
Customers' satisfaction/confidence in its products.
Delivery on time and timely production.
Human resource Development (In-house training and external training).
Effective internal and customer communication.
Supplier Development and timely valuation/re-evaluation of supplier.
Safety, good health and hygiene of personnel and a clean environment to prevent accidents.
Waste management to reduce wastage, re-work and rejection.
Pollution control and
Continual improvement in the quality management system
TSU is certified with all five major ISO certificates, which bear testimony to professional competence of TSU and quality of its products.
ISO- 9001:2015
(Quality Management system)- Sept' 1998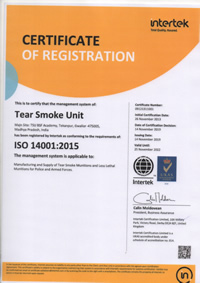 ISO-14001:2015
(Environmental Management System)- Nov' 2013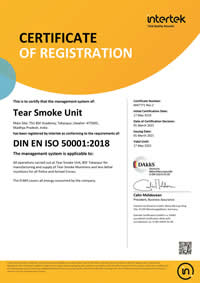 ISO-50001:2018
(Energy Management System)- May' 2016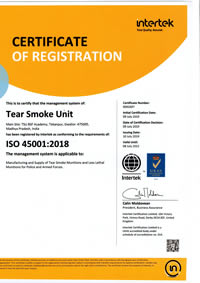 ISO-45001:2018
(Occupational Health & Safety Management System)- July'2019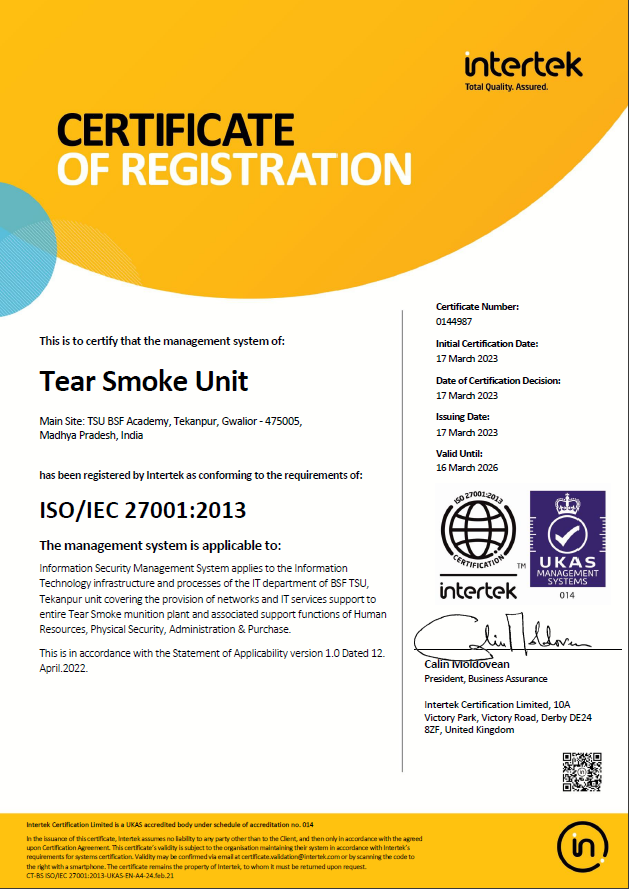 ISO/IEC-27001:2013
(Information Security Management System) - March 2023
NABL Accreditation
NABL Accreditation (ISO/IEC-17025:2017) for PLASTIC TESTING- Aug'2018 with ILAC-MRA (International Laboratory Accreditation Cooperation-Mutual Recognition Arrangement) Mark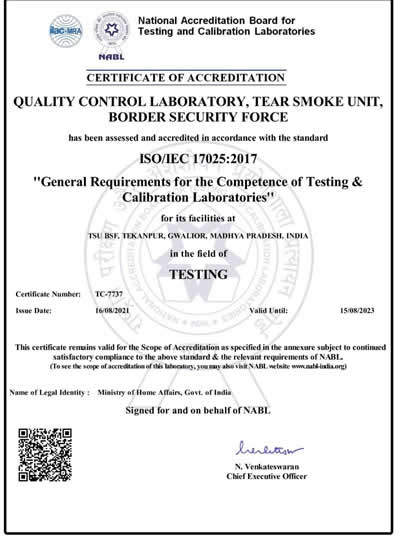 General Manager's Profile
Mr. Babu Chandran Nair joined Tear Smoke Unit as its General Manager on May 2019. He is an alumnus of the University of Kerala with a First Class Masters in Science. He also possesses one of the coveted technical qualifications on Electrical and Mechanical Astt. Engineering (Small Arms) from the Indian Armed Forces. He has an excellent track record in the production and manufacturing of weapons and their critical spare parts as well as less than lethal weapon systems. He has Commanded with distinction the Central Workshop and Stores and Central Instrument Workshop for four years in from 2009-2013. He has vast and varied experience in the fields of Project Management, Team Building and Skill development programs, training of Technical Staff etc. He was Quality Controller in the Inspectorate of Armaments, BSF,Gwalior for 3 years. He had worked at various levels in Border Policing, LoC in High altitude areas and most effectively engaged in Counter Terrorism operations in Punjab and Jammu & Kashmir. In appreciation of his outstanding service and contributions to the Nation's security and integrity, he was awarded with Police Meritorious Medal in 2012 by the Honourable President of India. He was also awarded with BSF Director General's Commendations for his outstanding career achievements. Hon'ble Chief Minister of Kerala has presented him with a glorious Commendation Certificate in recognition of the yeoman service rendered by the BSF units under his command during the devastating Flood 2018 in Kerala and saving the lives and properties of hundreds of flood victims there. He is energetic and result-oriented with hands-on professional skills and exceptional managerial experience from various fields under BSF. He has several records of coveted accomplishments in his career. His vast experience, leadership qualities, administrative skills and a clear futuristic vision is helping TSU to scale new heights in all spheres of its growth.
General Manager's Message
I have immense pleasure to welcome you all to the official website of Tear Smoke Unit (TSU), India. TSU has been engaged in manufacturing less than lethal munitions for law enforcement purposes for more than four decades now. It is the only dedicated Tear Smoke munitions manufacturing unit in the whole country. TSU products are widely used in India by the Central Armed Police Forces and State Police Forces for law enforcement purposes in difficult situations without resorting to lethal weapons.
One of our supreme priorities is customer satisfaction and ensuring uncompromising quality standards for our products. We have a committed R&D team which continuously work on quality improvement programs and strategies towards achieving objectives in terms of various client requirements. It is a matter of pride for us to announce that besides India, TSU products have been used by countries like Turkey, Mauritius, Nepal, Maldives, Bhutan & Mozambique for law enforcement duties. Our consistent quality management approach focussed on client requirements and satisfaction, has elicited increased demand for our products from domestic as well as overseas customers enabling us to manufacture world-class products in plenty at fairly competitive prices.
We have a highly motivated and competitive team to look after the production unit of the tear smoke munitions. Now we are producing as much as twelve times the quantity produced initially in 1976.
The TSU has got to its credit all major international quality certifications for our exceptional management practices and quality guidelines. It is certified with ISO-9001:2015 for Quality Management, ISO-14001:2015 for Environment Management, ISO 50001: 2018 for Energy Management, ISO 45001:2018 for Occupational Health & Safety Management and prestigious ISO/IEC 17025: 2017(NABL) Accreditation.
This website will give you a glimpse into TSU products and its functioning. Hopefully, it will also help you to form an informed opinion about our various products, our commitments to transparency, quality management initiatives etc. All-important information are promptly updated and uploaded regularly. I strongly recommend you to go through the website as I am confident that you will find it very informative and beneficial.
Tear Smoke Unit is located on Gwalior Jhansi road astride NH-75 at a distance of about 30 Kms from Gwalior. The nearest Railway Station is Dabra which is 14 Kms from Tear Smoke Unit and the nearest Airport is at Gwalior.